We've been told a lot that Koa has nice hair for a baby – full with volume hair and no spot baldness. And while my Husband and I know that it is mostly genetics, Koa did not always have good mane in his head in the entirety of his baby year.
Koa had massive hair loss starting at 2 mos old. It is the same time that the hormones from my body is slowly leaving his system and his body starts to provide these hormones – as I was told. At the same time, his cradle cap seemed to worsen and added to the cause of the hair fall.
Cradle cap causes crusty or oily scaly patches on a baby's scalp. The condition isn't painful or itchy. But it can cause thick white or yellow scales that aren't easy to remove.

https://www.mayoclinic.org/diseases-conditions/cradle-cap/symptoms-causes/syc-20350396
Here were some hair and scalp care we did when he was still a newborn:
1. Know what type of hair and scalp baby has. Koa had oily scalp and if we missed giving him a wash for a day, his hair would be oily already. And while this is a good and healthy sign, this was not helpful in cradle cap management. So we stopped using baby oil on his scalp as suggested by some elders in our family. Baby oil was difficult to wash off, made his head very greasy and his cradle cap seemed to worsen because of it.
2. We used a baby shampoo from Mustela that is specialized for baby hair. Unlike regular shampoo, this one is mousse type. So there is no need to lather and it was very easy to rinse off. It also helped on greatly on cradle cap. Sometimes when we use baby shampoo on the baby's head, there are some chances that it will not totally rinse off.
3. We also use baby comb when shampooing his hair. It helps clean his scalp and remove some of the cradle cap that are soft from the washing. Since the bristles is soft, it is totally safe to use on his scalp.
4. Around 2-3mos old, he would scratch his head because of the cradle cap. We started to use a cradle cap cream from Mustela. As per product instructions, we would apply the cream at nighttime and wash it off during his morning bath. It immensely helped the condition. But we do not use it often, only when his cradle cap worsens. The product is a bit expensive but one tube would last for long, we never finished ours.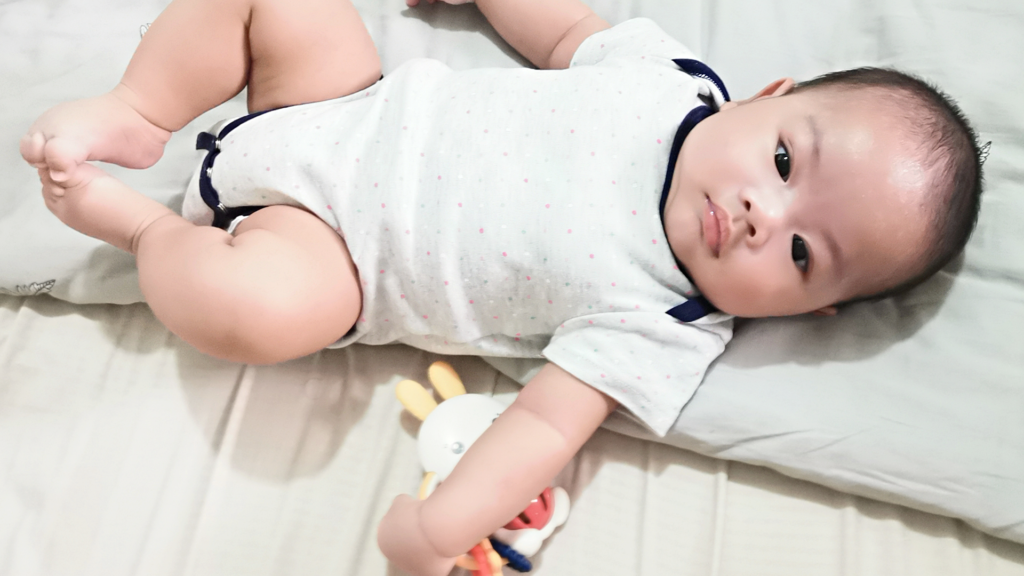 A good thing to note is that hair fall in babies are normal and that should see this around the second and the third month. Some babies are lucky and never go through this at all. If your baby happens to have falling hair – it's okay Mama.